The latest updates regarding UCSF websites, as well as best practices and tips for getting the most out of your web presence.
---
New Web Pattern Library
March 15, 2018
Working on a custom website? The new Web Pattern Library provides your website development teams and contractors with the code they need to create fully brand-compliant websites that meet accessibility standards. 
Benefits include combining efforts of multiple development teams across UCSF, saving time and money, and providing a consistent user experience.
If you are managing or overseeing a website project at UCSF, refer your design and development team to this resource.
---
Modifications to UCSF Brand Guidelines for Websites
December 27, 2017
The following modifications have been made to the UCSF Brand Guidelines for web applications:
Digital Colors:
Clarification on type size (in pixels, not points as previously listed) has been made. Brand portal now has live type for all digital colors, so HEX code can be copied and pasted onto your website. See Digital Colors page.
Hyperlink:
The universal hyperlink color for UCSF websites has changed from Pantone Process Blue C to #0071AD. The hyperlink color should not be used against dark backgrounds (i.e. in website footers.) See Digital Colors page of the Brand Portal for details.
Web Banners:
Additional detail provided for guidance on UCSF web banners (pixel size added for logo, logotype, menu items). Web banners are still downloadable from the brand portal, and HEX code added for recommended colors. See website standards page on the Brand Portal.
Navigation:
Recommended number of links for web navigation is 7 (previous recommendation was 9.) Additional detail provided for recommended font size (16 pixels) and white space between menu items (66 pixels). See website standards page on the Brand Portal.
Logo Lock-up Size for Websites:
UCSF campus and clinical logo lock-ups on websites should be displayed at 332 pixels wide. A "web only" file is included in your logo files from Documents and Media (664 pixels wide). If you do not have a "web only" file in your logo package, please email identity@ucsf.edu to request. Websites without UCSF logos should have the name of their group/center/lab in Helvetica Neue or Arial at 26 pixels. See website standards page on the Brand Portal for further guidance.
---
Fall 2017: Improvements to UCSF Site Builder
September 26, 2017
We have a new set of features available in Site Builder to help make your site shine. New improvements are:
Sticky Navigation Bar:
Help users navigate your site by keeping the top navigation bar in place as they scroll down a page.
Colored Boxes:
Add a splash of color to your 2-column or 3-column content by selecting from 6 different colors per column area.
Collapsible Content or FAQs:
If you have information you'd like to hide by default, such as an FAQ, you can now add it to any page.
Multiple Buttons:
There are now a wide variety of buttons, both large and small. Each button has an optional full-width version, which is wonderful for consistent styling in smaller areas like sidebar blocks or columns.
---
Summer 2017: Improvements to UCSF Site Builder
August 24, 2017
UCSF Site Builder will be updated on Monday, August 28, 2017 with improved tablet layout, typography, spacing and logo compression, as well as the following new features:
Adjustable Homepage Banner Animation Speed:
Tailor animation by choosing from a range of transition speeds, or turning off autoplay altogether.
Buttons:
Encourage a user to take action by adding a large or small button. 
Custom CSS Module:
Add custom CSS without modifying the underlying style sheet.
"See More" Block Buttons:
Allow users to navigate quickly and easily from commonly used blocks like News or Events.
Automatic Profile Photos:
All profiles will pull in an associated image from UCSF Profiles, which can be replaced, if desired.
Automatic Redirects:
Aliases and URLs can change without losing traffic or creating dead links.
---
New Web Hosting Recharge for Custom Websites
June 19, 2017
IT has been providing free, managed, cloud web hosting since 2011. The hosting program has been a larger success than anticipated. In that time, the number of sites we host has increased from 21 sites to nearly 1,000 Drupal sites today.
 
With the increased quantity and complexity of UCSF websites, hosting costs have increased as well. This is primarily due to the added hardware and security measures that IT has added to its hosting service to ensure maximum uptime and security for UCSF websites.
 
All of these services come at a cost which has outstripped our subsidy from the University. To properly resource the web hosting, IT Governance has approved a modest hosting charge for custom websites. That cost will be $50/month for fiscal year 2017-18.
 
Only websites that use a custom theme – including Starter Kit 1.0 websites that have not upgraded to Starter Kit 2.0 – will be subject to the $50 monthly charge beginning July 1, 2017. UCSF Site Builder websites will still be hosted free of charge for the foreseeable future.
 
Find more information about how IT defines "custom websites."
---
Starter Kit 1.0 Migration Completed
May 31, 2017
IT has migrated over 200 Starter Kit 1.0 websites to a newer design in line with UCSF design standards, called Starter Kit 2.0.
During that process, IT ran into two main issues:
Orange Starter Kit 1.0 Themes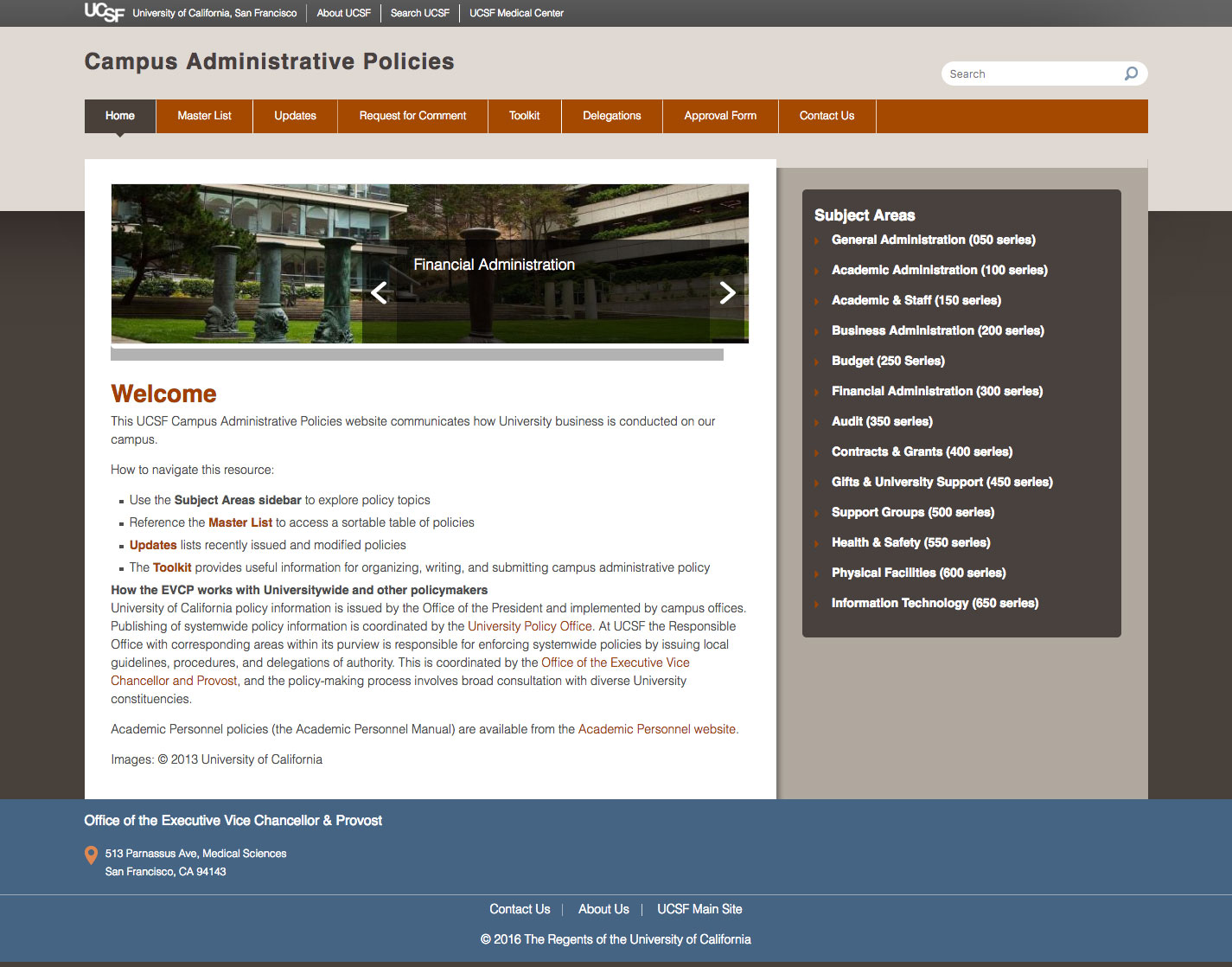 Starter Kit 1.0 sites with the orange theme (pictured right) were not automatically migrated because that theme has been customized. Those site owners will need to manually upgrade their website by following these simple steps.
Display of Site Names
IT noticed a number of websites were missing their Site Name identification on the site and were only showing the default UCSF logo, which is not how UCSF branded sites should look. They tweaked some sites via script to enable the Site Name in the upper left portion of the header.
This could cause a couple problems:
Many sites never updated the Site Name, and it still says "Starter Kit."
If the site name is very long, the navigation will be pushed to the right. In this case, you will want to use a shorter name for your site.
In both cases, the problem can be fixed by logging into the site as an administrator. Go to Configuration -> System -> Site Information to check and edit your Site Name details.
 
Once the site name is updated, go back to your homepage and verify the site name and other elements are to your liking.
---
Update on Starter Kit 1.0 Website Upgrade
May 5, 2017
About 193 Starter Kit 1.0 sites have been successfully migrated, and IT expects to complete the remaining migrations by Monday, May 8.
 
For most websites, layout and format did not dramatically change; you should see improvements to the site's overall look and feel, which include changes to your site's header region, overall color scheme and homepage. IT has noticed an issue with the main UCSF logo appearing in place of the website's name in the header section – they are currently working to restore the proper website name to that area.
 
If Starter Kit 1.0 admins haven't already done so, please check your site asap to ensure there are no other formatting or display issues. If you see any major problems, please contact John.Kealy@ucsf.edu.
---
Starter Kit 1.0 Websites to Be Automatically Upgraded on May 1
April 5, 2017
On Monday, May 1st, IT will be automatically upgrading all Starter Kit 1.0 websites to Starter Kit 2.0. For most websites, layout and format is not expected to dramatically change. You will see improvements to the site's overall look and feel, which will include:
Changes to the look of the main navigation
Updated color scheme
New homepage carousel
While IT doesn't anticipate any problems, admins should check their websites after 5 p.m. on May 1 to make sure the upgrade is successful. They may need to make very minor formatting adjustments.
Not sure if your website is impacted? Check this list to see if your website is Starter Kit 1.0, Starter Kit 2.0 or Custom.
If admins don't want to wait, they can make the upgrade now by following these simple steps.
 
If a Starter Kit 1.0 website is significantly customized, or if admins see any major problems with their site after the May 1 upgrade, please contact John.Kealy@ucsf.edu.